Levelling up in Avakin Life can be a consistent process depending on your everyday activities in the game like socializing, purchasing, and even collecting all have to do with how fast you gain XP and level up. There are many factors, how many clothes you purchase every day, how many apartments you buy each week, how many apartments you collect Gems in, and more. Let's jump into it so we can learn how to start receiving more XP.
Socialize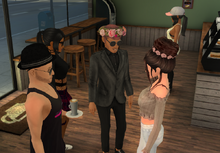 Let's face it, if you aren't interacting with others on Avakin Life, you probably aren't having too much fun. Chatting with other players and being active in different social spots will definitely help with XP.
The longer you stay in a room and interact the more 10 – 15 XP boosts you can receive.
Socialize: Gifts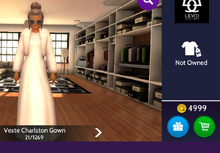 Gifting other players is such a thoughtful thing to do, I try to do it often. You can receive up to 20 XP for gifting other items to players, but be careful because gifting them drinks and other small gifts are not known to give you experience at this time while gifting physical items does.
Socializing: Just have FUN!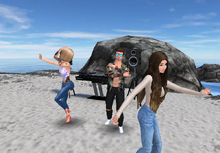 If you always have your mind on gaining XP and levelling up, you may not level up as fast as someone who doesn't worry so much about it! You should always do your daily activities on Avakin Life, but once you are done you should definitely have fun with your friends and see where it takes you. Chat often and have lots of fun.
Jobs & Ordering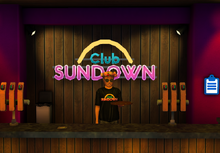 Picking up a shift at Club Sundown is not only fun, but it can also help your XP boost. You should always do as many orders as you can within a shift, and try to pick up shifts wherever you are not busy with friends . Jobs also have Avabucks which can be transferred to Avacoins later. Be sure to have friends order from you on your shift to help you do the max three orders in easy time!
Once you place your order, you will have to wait for the server to make your drink or dish and get to you to receive the XP. You can typically bust out 10 XP for your first order, and then progressively goes down to 5 XP. If you were to go to the 23rd Street Cafe every morning and order 2 things, you'd be up by 15 XP! After the cafe, you might want to take yourself to Club Sundown later in the day for more orders and more XP.
1st item ordered: 10 XP
2nd item ordered: 5 XP
Shopping: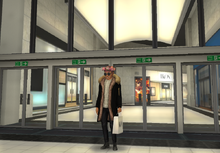 Shopping has to be the most helpful way to earn XP in Avakin Life, there are so many things to buy and not enough Avacoins! Depending on the value of each item, you can receive 500 XP – 50 XP when shopping. The more shopping you do in one day can limit how much experience you can get, so if you are going to make big purchases it is wise to spread them out over the course of days. Picking out some of your favourite shirts every day is a great way to gain XP, but don't limit yourself to just shirts, go all out!
Shopping: Build Machine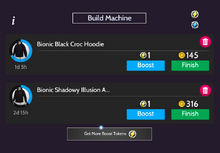 Using the Build Machine can make your desired items that you want, and with that, you also receive XP for starting the building process for a number of items each day. Each time you start to build an item, you receive 25 XP. A lot of players typically get their daily items in and then wait until the next day to build again, never receiving any items, just XP. In that case, you should unlock your second build machine for 5000 Avacoins so you can build while you make your daily dose.
Shopping: Apartments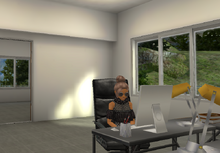 Buying an apartment can be a lengthy process, but there are many perks while picking out the best ones that are worth your Avacoins. The more apartments that you hold in your possession, the more XP you will gain from them, but we will get to that next. When buying an apartment, you are likely to receive 300 XP after purchasing, this can dramatically help you in the levelling process. I think of buying an apartment as a big boost to get to the next level, and I typically wait for newer apartments to come out so I am always in the loop.
Daily Activities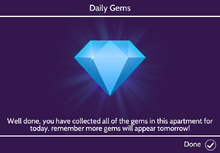 This is where the more apartments you have available in your possession comes in handy because the more apartments that you have, the more experience and gems you receive each day. From each apartment you can collect 10 gems, and you will receive 20 XP from each of them.
There is currently no daily cap for this, and it can help a lot over time. It is recommended that you visit Avakin Life every day to receive your daily gems and XP to help your leveling.
Daily Activities: Diving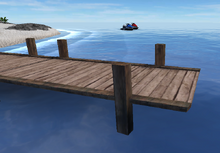 Believe it or not, diving can also give you some XP. While diving at Paradise Island isn't the safest place to do this, you can also head over to 921 Acacia Drive for a clean pool and a barbecue… can't beat that!
Apartments: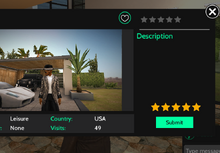 Rating apartments should already be apart of your daily routine because you are giving genuine feedback and also helping people out with their place. You can receive 15 XP multiple times every day. There is a daily cap on this but you can do more the next day.
Apartments: Feed your pets!
Feeding your pets every day is very important to keep them in a good mood. Though it doesn't matter what kind of mood they are in to receive your XP, you should always take care of them. If you feed your pets each day you will receive 50 XP or more. There is a cap of 2 pets per day, sometimes you may be awarded twice for the same pet.
Achievements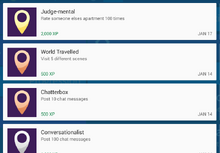 If you are looking for even more XP boosts here and there, linking your Avakin Life account to Google Play can also help from time to time. Unlocking an achievement can give you XP in the game as well as on your Google Play account.
Photos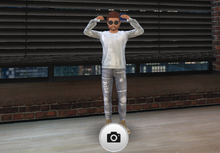 Snap some pictures every day for some extra XP, 15 to be exact! This is a great way to earn and capture special moments in Avakin Life.
Community content is available under
CC-BY-SA
unless otherwise noted.